Examination Process for Swap Dealers and Major Swap Participants
Dodd-Frank regulations require registered swap dealers (SD) and major swap participants (MSP) to become Members of a registered futures association, i.e. NFA. One of NFA's mandates is to conduct examinations of SD and MSP Member firms for their compliance with the CFTC 4s Implementing Regulations.
NFA has adopted a risk-based approach to examinations. To determine what rule areas to review and what firms to examine at any particular time, NFA will consider factors such as the inherent risk of a rule topic area and developments in the industry or at a particular Member firm. NFA's current plan is to perform examinations of U.S. SDs and MSPs. Where affiliated U.S. SD entities exist, NFA hopes to leverage the commonalities between those entities and conduct a single exam visit.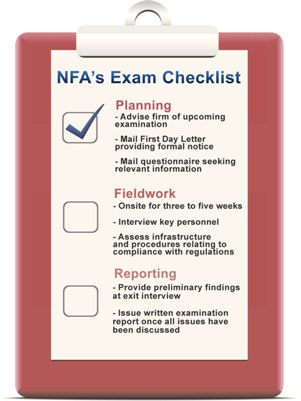 NFA's examination of SDs and MSPs will be conducted in three phases: planning, fieldwork and reporting. Early in NFA's planning stage, NFA staff will contact firm personnel to advise them of the upcoming examination. Shortly thereafter, NFA will send two documents to the firm. The first document is a First Day Letter, which provides formal notification of the upcoming examination, the expected start date and duration of the onsite visit and a request for certain documents. NFA plans to begin onsite examinations about 30 days after the First Day Letter is sent. The second document is a questionnaire that seeks to obtain information to assist in the planning and scoping of the examination. The questionnaire contains preliminary questions about the firm. SDs and MSPs will be expected to respond to the questionnaire within about 10 days.
The second phase of the examination is fieldwork. During fieldwork, NFA will interview key personnel to understand the infrastructure and procedures in place supporting the firm's compliance with relevant regulations. NFA also will review reports and documentation, and observe operations to assess a firm's regulatory compliance. NFA estimates being onsite for three to five weeks depending on the number of entities covered. During the exit interview, NFA will summarize the preliminary findings and recommendations with the Member firm.
In the final phase, NFA will issue a written examination report to the firm once all issues have been discussed.
NFA also is in the early stages of developing a monitoring program, which will be rolled out over time. NFA's monitoring program of Member firms will focus on identifying significant developments at a firm or in the industry that warrant regulatory scrutiny. This monitoring will occur through a combination of meetings with firm personnel and the review of key reports available to NFA.
NFA hosted an audio conference on June 5, 2014, in which senior staff discussed the proposed approach to SD and MSP examinations. NFA also answered Members' questions after the presentation. Click here to listen to an audio recording, or here to read a transcript of the conference.