Member Newsletter

News Facts Actions - Winter 2011
In this issue:
---
Reminder to Member FCMs and IBs: New AML Procedures System now available
On November 16, NFA launched a new web-based Anti-Money Laundering (AML) Procedures System to assist NFA Member FCMs and IBs and applicants in developing an AML program that meets the requirements of the Bank Secrecy Act and NFA Compliance Rule 2-9(c). The system is designed to assist firms in developing an adequate written compliance program by identifying the minimum components of the program and providing guidance and information on the components, along with examples of suggested language.
"Developing proper AML procedures has been a challenge for some of our Member FCMs and IBs," said Sr. Vice-President of Compliance, Regina Thoele. "Most of our firms want to be in compliance, but the issues are very complex and often confusing, so our auditors spend a lot of time reviewing inadequate AML procedures. The firms then have to submit new procedures for review. We believe that the new system will result in more efficient use of time, both ours and the firm's."
Members can access the AML Procedures System via NFA's website at http://www.nfa.futures.org/NFA-electronic-filings/aml-procedures.HTML, and employing the same user name and password that would be used to access NFA's Online Registration System.
The system poses a series of questions concerning various aspects of a firm's AML procedures. Pictured below is a screen capture of a portion of the Customer Identification Program section.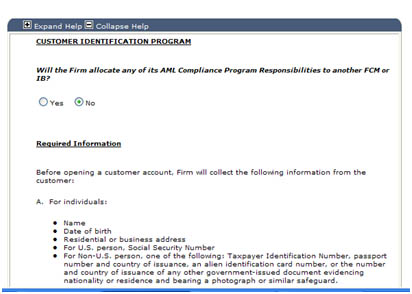 Based on the firm's answers, the system customizes an AML program. An NFA staff member then reviews the program for completeness and, once the review is finished, the firm may adopt the AML program for its use.
Thoele cautions, however, that using the system does not guarantee that your program will satisfy the AML program requirements. "It will not provide a safe harbor from violations of the program requirements."
Questions concerning NFA's AML Procedures System should be directed to Christopher Michaelson, Risk Management Supervisor, Compliance (cmichaelson@nfa.futures.org or 312-781-1351) or Valerie Kretschmer, Manager, Compliance (vkretschmer@nfa.futures.org or 312-781-1290).
---
Advisory Committees provide valuable communication channel between NFA and its membership
Effective self-regulation relies on providing members with opportunities to participate in the self-regulatory process. NFA's Advisory Committees serve an important function at NFA, allowing committee members to speak for their membership category on a variety of issues. Recently, all four of NFA's Advisory Committees (FCM, IB, CPO/CTA and FDM) met to discuss upcoming rule proposals and other relevant topics.
"The Advisory Committees make significant contributions to the rule-making process at NFA," said NFA's General Counsel Tom Sexton. "We look forward to our discussions with them and we value their input."
Some issues are discussed by all four committees, while others are specific to the committee's registration category. For example, the CPO/CTA Advisory Committee discussed the current status of NFA's Petition for Rulemaking to Amend CFTC Regulation 4.5, removing some of the current exemptions from CPO registration for investment companies that offer actively managed futures strategies to the retail public. The FCM and FDM Committees discussed the CFTC's proposed rules regarding designation of a chief compliance officer. However, all four committees discussed proposed changes to NFA's Self-Examination Questionnaire.
Because the Advisory Committees represent NFA membership at large, members of the committees encourage and appreciate input from individual Members.
"If you have an industry issue or would like to provide feedback on a specific NFA rule, contact a member of your Advisory Committee," said Sexton. "It's an effective way to make your opinions known to NFA."  
Advisory Committee members are appointed by NFA's Board of Directors for two-year terms. NFA Members currently serving on NFA Advisory Committees are listed below.
FCM Advisory Committee
David M. Battan, Vice President and General Counsel
Interactive Brokers, LLC
Clarence Delbridge III, Executive Vice President
FC Stone, LLC
Maureen C. Guilfoile, Director and Senior Counsel
Merrill Lynch Pierce Fenner & Smith, Inc.
Robert F. Klein
Citigroup Global Markets, Inc.
Dennis A. Klejna, Senior Vice President
MF Global, Inc.
Timothy J. Lankford
Donald R. Levine, Senior Vice President and Senior Counsel
Prudential Financial
Bonnie Litt, Managing Director and Associate General Counsel
Goldman Sachs & Co.
Susan M. Schultz, General Counsel
Newedge USA LLC
Russell R. Wasendorf Sr., CEO
PFG Best
FDM Advisory Committee
Drew Niv, President and Chief Executive Officer
Forex Capital Markets LLC
Muhammad Rasoul, Executive Vice President and Chief Operating Officer
Global Futures and Forex Ltd.
Glenn Stevens, Chief Executive Officer
Gain Capital Group LLC
Michael Stumm, President and CEO
OANDA Corporation
CPO/CTA Advisory Committee
Robert J. Amedeo, President
Altegris Portfolio Management
Bruce A. Beatus, Managing Director and General Counsel
Credit Agricole Asset Management Alternative Investments
Douglas L. Bry, President
Northfield Trading LP
Ernest L. Jaffrian, Managing Member
Efficient Capital Management
David A. Kauppi, Vice President, Compliance
Dunn Capital Management, Inc.
Jerry Pascucci
UBS Financial Services
Barbara A. Pfendler, First Vice President
Newedge USA LLC
Gerard G. Trevino, COO/Risk Officer and Principal
AAA Capital Management Advisors, Ltd.
IB Advisory Committee
John W. Crane, President
Traders Network, Inc.
Lawrence E. Hicks, Member
CattleHedging.com LLC
Kurt M. Johnson, President
Archer Financial Services, Inc.
Stephen D. Reece, President
Sciota Trading Ltd.
Richard C. Schlabs, Account Executive
Schlabs & Hysinger Commodity Services
Michael T. Sherzan, President
Broker Dealer Financial Services Corp.
Scott W. Stewart, President
Stewart-Peterson Group, Inc. 
---
Board Actions
The following actions were taken by NFA's Board of Directors at their meeting on November 18, 2010.
The Board ratified the Executive Committee's approval of amendments to NFA's Forex Requirements to conform those requirements to the CFTC's final Forex rules.
The Board ratified the Executive Committee's approval of amendments to NFA's Bylaws and Registration Rules to adopt registration requirements for Forex firms.
The Board approved an amendment to NFA Financial Requirements Section 11 and the Interpretive Notice entitled "Forex Transactions" to allow highly capitalized foreign banks regulated in a money center country to hold FDM assets. The Board also approved an amendment to NFA Financial Requirements Section 14 to eliminate foreign equivalent broker-dealers and FCMs as qualifying institutions for holding the assets covering liabilities to retail Forex customers.
The Board approved an amendment to Bylaws 1301(b) and (e) increasing FCM and FDM assessment fees. The new fee structure became effective on January 1, 2011.
---
News Briefs
Enhanced customer information and risk disclosure requirements now in effect
As of January 3, 2011, NFA Member firms are now subject to additional customer information and risk disclosure requirements that are part of the amendments to NFA's Compliance Rule 2-30 and the related Interpretive Notice. The amendments have three main components:
Expand the customers covered by the rule to reach all non-ECPs rather than just individuals.
Require FCM Members to request at least annually that active customers update information on file if there are any material changes and require the FCM, IB or CTA member that currently solicits and communicates with the customer to determine if additional risk disclosure is required to be provided based on any changed information.
Prohibit Members and Associates from making individualized recommendations to those customers whom the Member or Associate has or should have advised that futures trading is too risky for them.
For additional information, refer to NFA's Rule Submission Letter or call NFA's Information Center at 312-781-1372 or 800-621-3570.
NFA publishes 2010 Annual Review
NFA has published its 2010 Annual Review, "A Clear Vision", summarizing the Association's accomplishments during its most recent fiscal year (July 1, 2009 through June 30, 2010). Visitors to NFA's website can view and download the publication. Complimentary hard copies of the publication can be obtained by calling NFA's Information Center (312-781-1410 or 800-621-3570) or by email. If ordering by email, please include your complete name and mailing address.
NFA to sponsor International Regulators Dinner
NFA will sponsor an International Regulators Dinner in Boca Raton on March 14. The dinner will be held in conjunction with a day-long meeting for international regulators that coincides with the Futures Industry Association 36th annual Futures Industry Conference (March 15-18). CFTC commissioners and senior staff, exchange representatives and regulators from around the world are expected to attend. For more information on the conference, visit www.futuresindustry.org.
NFA provides investor education at New York Traders Expo
NFA is sponsoring an information booth at the New York Traders Expo on February 20-22 at the Marriott Marquis Hotel. NFA staff will distribute copies of NFA's investor education materials and demonstrate how to conduct a background check of a futures firm or individual using NFA's Web-based Background Affiliation Status Information Center (BASIC).
The Expo offers educational seminars and workshops as well as an exhibit hall featuring trading software providers, futures and options exchanges and other vendors. In previous years, the Expo has attracted more than 6,000 traders. For more information visit the Expo's website at www.TradersExpo.com.